High quality fried chicken with flour coating or bread crumbs

Butter milk
Flour
Black pepper
Red pepper
Baking soda
Cumin
Garlic
Olive oil
Vinegar
Salt
Turmeric
Black seed oil

Take 250 ml of buttermilk, in it add a tbsp of salt and black pepper and whisk to dissolve. Then immerse the chicken pieces in the buttermilk brine, cover and refrigerate for at least an hour or for 12 hours.
Coating
For the coating, take 350 g of flour, add 3 tbsp of ground white pepper, a tbsp of garlic paste or powder, a tbsp of black pepper and red pepper powder, 1 tbsp of ground ginger and cumin powder, 1 tbsp of baking soda, 3 tbsp of apple cider vinegar, 1 tsp of turmeric and blackseed oil (Nigella) and a tsp of salt along with 40 ml of olive oil and whisk to combine. Next add 90 ml of whole milk or butter milk and mix slightly.
Bring the chicken at around room temperature and take the drenched chicken pieces out of the buttermilk and place it in the bowl containing our seasoned flour coating. Coat the whole piece so as the chicken is not bare. Next take all the coated chicken pieces and refrigerate for an hour or two.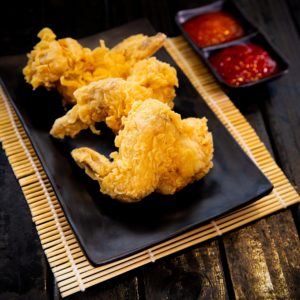 Frying
In a pan on medium heat take olive oil, peanut oil or coconut oil (something good and one that has a higher smoke point and oxidative stability, extra virgin olive oil is quiet stable with high amounts of antioxidants and monounsaturated fats) to an amount sufficient to immerse the chicken pieces, then cover and let it cook for around 5 minutes, move the pieces a bit, cover and cook for another 5 minutes. Flip the pieces carefully and let it cook for around 9 minutes. And the internal temperature reaches 160o F.
Once done, take the chicken pieces out and expel the excess oil, and let it cool for around 8 minutes. And serve.