Flour
Butter
Egg
Salt
Milk
Yeast
Honey
Sesame seeds
Nigella Sativa (Blackseeds)
Olive oil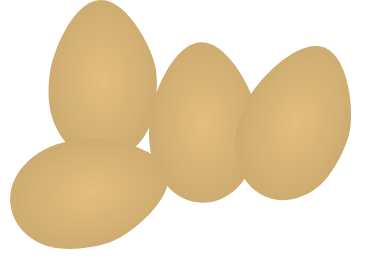 In a bowl, pour in 100 ml of warm milk, along with 2 eggs, a pinch of salt, a tsp of honey and mix to incorporate the ingredients and then add in 46 g of dry yeast, mix and set aside for around 10 minutes for activation.
Next in a separate bowl take 300 g of flour (barley or wheat), add in a tsp of honey and then a pinch of salt and mix and pour in the prepared milk and yeast mixture. Mix & knead to properly combine the ingredients. Then add in 144 g of room temperature unsalted butter (softened) and continue mixing for around 9 minutes or until smooth.
After that, shape the dough and place it in a bowl lined with olive oil, and brush some oil onto the dough; cover and let it proof for an hour or so or until becomes twofold in volume, in a warm environment.
Following the twofold increase in mass of the dough, expel all the air out of it. Next separate the dough in desired parts and transform them to spheres and transfer them to pan evenly spaced, covered and let them rise again for 30 minutes or so.
Then lightly brush them with a mixture of egg, milk and melted butter. And sprinkle some sesame seeds or nigella sativa seeds (blackseed) to hearts content.
Finally place them in a preheated oven for around 21 minutes at 180o C or 350o F, and reach an internal temperature of around 200o F. If desired brush the top surface of fresh buns with melted butter.